Björn Lindqvist — consultant and developer
---
Professional resume site for Björn Lindqvist. For prospective employers and clients. Incorporated and looking for freelance work.
About Me
Among my best qualities are my ability to see both the details and the full picture of any software development project. I'm passionate about always producing top quality results and satisfying my clients needs. Simply said, I love building stuff.
Developing stuff is both what I do for fun and what I do for a living. I have studied for three years to Bachelor of Engineering and also contributed to some Open Source projects.
Professional Experience
Worked for a year and half as a consultant for Network Expertise Sweden AB. Then as a consultant for Akademin AB, first on a project that lasted for ten months at Sony Ericsson in Lund and later twelve months as a system designer at Ericsson in Älvsjö. Then I was at Caliber Media AB for two years developing web platforms for hosting pay-to-play games. Currently working at Söderberg & Partners on their pension insurance management systems.
Personal Qualities
I'm a positive and happy person. Loves new challenges and takes great responsibility in my duties. I'm resilient to stress, reliable and will always do my best to reach my goals. One of my best qualities is that I'm very stubborn and patient and will almost never give up on something I've set my mind on.
People have told me that I'm a good tutor and teaching is something that comes naturally to me. Possibly because learning new stuff makes me happy and working with other people that also likes to learn things is a privilege.
Expertise Areas
My own valuations of my skill level in some of the expertise areas is presented below. One is newbie, two is average, three good, four really good and five master.
Click on the underlined skill words to get some extra information about my experience with it.
Languages
Databases & Storages
Linux Development
Protocols & Specifications
CAN bus

In university, we created a simple robot using this protocol. Since then, I've forgotten almost everything about it.

IP-protocols
MisLife Insurance XML

MIS portal, I'm responsible for the data bridge between MisLife files and the Visi insurance system at Söderberg & Partners.

NFS
VoIP-protocols
Other Skills
Affiliate Marketing
Agile & Scrum
Concatenative Programming
Design Patterns
English
Functional Programming
German
Google Analytics
Guitar
Object-oriented Programming
Project Leadership
Swedish
Operating Systems
Windows
Linux

Arch Linux

Arch Linux, this is the distro I currently prefer.

Debian
Gentoo

Gentoo, I used to have a lot of fun compiling the latest updates of Gentoo and also reporting bugs and fixing broken ebuilds. But Ubuntu has a more polished feel to it which I've come to prefer.

OpenSUSE
RedHat
Ubuntu

OSE
Web Technologies
AJAX
CoffeeScript
CSS
DOM
HTML
JavaScript
Markdown
REST
XML
Web Frameworks & API:s
ASP.NET
Django
Facebook API
Google AppEngine
Google Maps API
GlassFish
JSP
Node.js
Ruby on Rails
Tomcat
Web Servers
ZKoss
Developer Tools
Asterisk
Bug Tracking

Bugzilla
DMS
JIRA
github
Trac

Build Automation

Ant
Autotools
Hudson
MSBuild
SCons
WAF

Clang
Editors & IDEs

Eclipse
NetBeans
Visual Studio

Emacs
Excel
gcc
GnuPG
LaTeX
LLVM
MediaWiki
Outlook
Unit Testing

Gatling
JDTS
jUnit
nosetest

Sharepoint
Version Control

ClearCase
CVS
git
Subversion
Team Foundation Server

Vi
Wireshark
WordPress
Zsh
Working with the back end system for Swedens largest independent pension insurance advisor. A major part of the work is handling the import of market and insurance data from external partners to s&p:s database.
I have learnt a lot about optimizing SQL code and have had a lot of fun applying advanced SQL concepts such as window fuctions and common table expressions.
Skills Applied
ASP.NET, C#, Linq2sql, MisLife, Outlook, Powershell, SQL Server, Team Foundation Server, Visi, Visual Basic .NET, Visual Studio, XML
Caliber Media AB, Dec 2008 — Dec 2010
Hired as a system developer for internet marketing company Caliber Media AB. Responsible for new development and maintenance of their web-based gaming platforms. One part of the company was gathering leads using our gaming platforms, and the other was email marketing to the gathered leads.
Sadly, this company seems to have tanked and their site is not online anymore.
Skills Applied
Agile, CSS, Facebook API, GlassFish, Hudson, IMAP, Java, JSP, jQuery, MySQL, NetBeans, Subversion, ZKoss
Consultant for Akademin Stockholm AB. Nowadays they call themselves REAB Data AB. During this time, I took my only certificate Sun Certified Java Programmer
Mobile Communications, Sony Ericsson, Lund
Writing jUnit-tests for SE:s MIDP implementation, especially JSR-184. I also wrote test documentation in ReST.
Integrated Site, Ericsson, Älvsjö
Working on new features and maintenance of Ericssons blade cluster solution for telephony operators called Integrated Site. It was the successor to AXE.
Skills Applied
ClearCase, DRBD, Eclipse, Erlang, Gatling, Java ME, jUnit, MIDP, OpenSUSE, UDP
NX was my first "real job" which I was hired to straight out of university. I did a lot of different projects there. It was great because I learnt new tech, but none of the projects was given enough time to be successful.
EyeNode
A video server called EyeNode written in C and SDL for networked digital surveillance cameras.
CV Management
A CV management system for the company's sales people. It was written using Qooxdoo and was a single-page Javascript application. Server communication was handled using AJAX. I even implemented full text searching using pdftotext and catdoc for NX:s thousands of resume documents.
MobiPhone
A VoIP PBX (MobiPhone) for small businesses built on top of Asterisk. I was responsible for the LaTeX documentation and the deployment system which used FAI.
MeetingCamp
A VoIP conferencing system called MeetingCamp.
Skills Applied
AJAX, Asterisk, C, FAI, LaTeX, Qooxdoo, Samba, SCons, SDL, VoIP
Royal Institute of Technology in Södertälje, Aug 2003 — Jun 2005
Studied computer science and software engineering, focused on real time software.
Personal Projects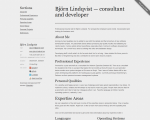 I suppose this CV should count as a personal project, shouldn't it? ☺ It runs on my VPS hosted by GleSYS where I'm also running some other sites, for fun. The web server I'm using is nginx, which sends the request through to a node server this one-page site written in Coffeescript. I've gotten the good looking background patterns from Subtle Patterns.
The eye-candy, such as the tooltips and smooth scrolling is implemented using jQuery.
Note that for this site, I've decided to go with state-of-the-art web development techniques such as CSS3 and HTML5 and not bother much with supporting legacy browsers. The idea is that whoever is reading this site, and is interested in my services, is very likely to be using a modern browser.
Skills Applied
CSS3, Express, Google Analytics, HTML5, Jade, jQuery, jQueryUI, nginx, Node.js, Skeleton, Stylus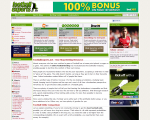 A site about football betting. Created in collaboration with my brother to explore affiliate marketing opportunities in the sports betting business.
Skills Applied
Affiliate Marketing, Django, Jinja2, memcached, nginx, PostgreSQL, Python, qTip2
A site about VPS:es. It's often down because I'm being harassed by spammers. At the time I wrote the site I didn't know how crucial it is to implement strong anti-spam techniques on public facing websites.
Skills Applied
Django, Google Maps API, memcached, PostgreSQL, Python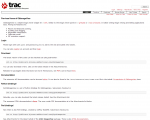 An image-viewer widget for GTK+ 2.0. GTK+ has since released version 3.0 and revamped its entire API, so the widget is only useful for legacy applications. ☺
Skills Applied
C, gobject, GTK+, Python, SWIG, trac
References
Available on request only.